When you learn to embrace the the chaos of a country you learn to love it too. We made our way from Guadalajara to Acapulco through crazy city traffic and beautiful country drives. We have been learning to expect the unexpected.
The only other 'ginger people' we have seen for a while and they aren't even real gingers!
Bart Simpson Tacos!! (they deliver)
Siesta time! This guy takes it seriously.
Guadalajara historic center.
Statues everywhere!
Guadalajara is only a short drive from Tequila. The east side of the city is very modern and clean and the historic center is busy and confusing but the west side is pure mayhem!!
Another Tequila tour bus
People protesting loudly about something (we really need to work on our Spanish)
I keep the camera ready for the random stuff we see on the side of the road like this giant alligator with a small convenience store in the rear end.
The name of this coffee drink makes me giggle.
In the city of Uruapan, MX we walked past this ummm theater. Apparently they change the movies out daily and so for we haven't been able to catch The Martian with subtitles.
We watched this guy take advantage of the opportunity to sell snacks at a road construction site before he ducked back into the bushes.
We are seeing more of these motorcycle powered food carts as we head east.
And it reminds us of this beauty from Nacho Libre which was filmed in this region of Mexico.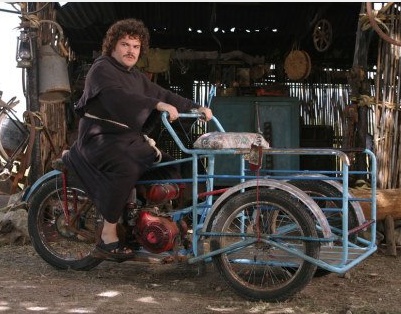 Ooooh chaga cha cha
AHEAD!
Yummy?
The bomberos (firefighters) have a fund raiser in the park and let the kids climb the ladder.
Random mural in a small town. (What exactly is that priest doing to those children?)
We also drove through the avocado region of central Mexico.
So beautiful!
An avocado packing plant for me!
We ride through more towns than we can remember the names of but the topes (speed bumps) slow us down enough that we see more than we we would on an interstate. Here are some of our favorite examples of the beauty of everyday life here in Mexico in this region,
Festival decorations adorn a small town.
A lady selling fresh flowers.
Ladies in traditional clothes.
Mariachis plotting their revenge.
Statues everywhere!
Small town streets and the lack of seat belt usage.
Ice cream cone of deliciousness?
Advertisements everywhere!
Vampire cocktails (our best guess is it's a Bloody Mary.)
More roadside monuments than we can photograph
And graveyards full of mausoleums.
Awww
Statues and religious symbols of all shapes and sizes.
Call now for all your scorpion needs!
We love watching the kids play and often times they will wave to us.

Nothing smells as tempting as the many road side restaurants when you have been on the road for a while. These small family owned establishments are an absolute must try for anyone visiting Mexico. It's so simple, they tell you what they have to offer which usually consist of 2 or 3 options and your choice is cooked hot and fresh on the spot. You can not get any more authentic than roadside tacos in a town you can't pronounce!
Handmade carne asada tacos!
He really can't help himself sometimes..
It is a Beamer after all..
Also, we have determined that google maps is trying to kill us. Check out this "road" it tried to send us down. FYI, if you are taking this trip try to stay on the yellow lines and avoid the grey ones if you don't have the right bike and training.
I'm pretty sure this is not a road google!
Want a pig?
Bacon..
or ceramic?
Topes are speed bumps that every town in Mexico has plenty of. The need for them has begun to make a little more sense to us because Mexico can not afford to have police sitting around with radar guns writing tickets for speeding. So in order to get people to slow down in populated areas they have added topes which will slow down or damage you vehicle. At many of the topes there are people selling food,drinks or what have you but our favorite has been coco frios, cold fresh coconut water straight from the coconut!
Coconuts!
"You put the lime in the coconut and drink it all up"
Finally made it to the coast again.

Up next, the nomads search for ruins in lava!